Brian Howard
Graduate Student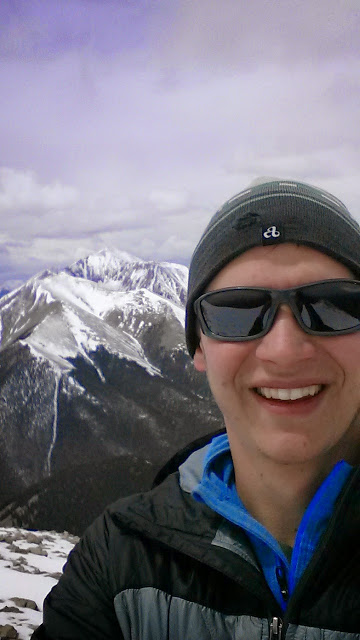 Brian Howard is working to understand what trees grow back, and why, after a large wildfire in the Alaskan tundra. Brian is a second year PhD student in the Plant and Ecosystem Ecology Research (PEER) Lab at Ecoss. His research takes him to Denali National Park in Alaska where the 30,000-acre East Toklat wildfire burned in 2013.
There, in collaboration with the National Park Service, Brian collects post-fire vegetation and soil data, such as permafrost depth, and compares these to the same data collected prior to the fire. His research is part of the NASA-funded Arctic Boreal Vulnerability Experiment (ABOVE), which focuses on the loss of legacy carbon to the atmosphere as a result of melting permafrost and burning forests. Brian grew up in Kansas but moved to Idaho to build trails with the Forest Service, finish his BS in Ecology at the University of Idaho, and begin working as a seasonal field botanist. Brian spent a season doing backcountry plant surveys in Alaska and worked two years in Zion National Park monitoring plants after fire, as well as fighting wildfires. He came to NAU with quite a bit of relevant experience!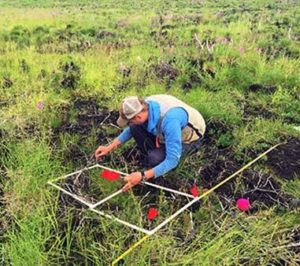 Brian's research, which will be on-going for at least two more field seasons, will determine if conditions after wildfire favor the expansion of trees into previously unforested tundra. His study site is composed of tussock grasses growing over permafrost, with black spruce and white spruce scattered throughout. The wildfire burned off the insulating moss layer over much of the permafrost in the area; the loss of this protective layer results in more favorable seedbeds for spruce regeneration, increased thaw depth, and the possibility for tree expansion into tundra after wildfire.
To understand if and how trees may expand naturally, Brian is starting by determining if there is a native seed source present in the area. He is also conducting a seeding experiment by planting local black spruce and white spruce seeds, monitoring their germination, and eventually, determining the specific environmental conditions needed for tree expansion beyond the islands of trees remaining after wildfire. Besides collecting and planting spruce seeds, Brian takes samples to determine the condition of the soil, as this measurement will help determine if the conditions after fire are beneficial to the seed germination of one species over the other. Increased thaw depths after the wildfire should hypothetically favor white spruce over black spruce.
The results of this study will contribute to better predictions of the decline or expansion of one or both of these species given increasing fire disturbance as expected in the future. If spruce is able to expand into tundra, this creates a change in the carbon storage capacity of this ecosystem in the future. If black spruce, which is more flammable, outcompetes white spruce, this has the potential to increase fire disturbance regimes in the tundra.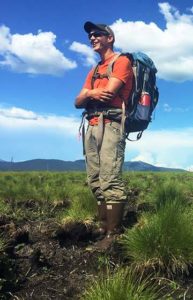 Brian will enthusiastically tell you that he is one of the luckiest graduate students in the country! He loves conducting his fieldwork in Denali and being able to fly in helicopters to remote areas of the park – see grizzly bears, moose, and the prints of wolves.