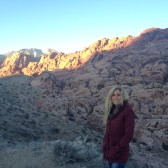 Research Interests
Walker's research focuses on the impacts of climate change and disturbance from wildfires on tundra and boreal forest ecosystems. She has experience in fire ecology and using dendrochronology techniques to assess climate change impacts on ecosystem resilience and post-fire succession. Dr. Walker is currently working on the NASA Arctic Boreal Research project to study severe fires and the loss of old carbon from boreal forest and arctic tundra soils.
Selected Publications
Walker, X, Baltzer, J. L., Cumming, S. R., Day, N. J., Johnstone, J., Rogers, B. M., Solvik, K., Turetsky, M. R., & Mack, M. C. (accepted November 2017) Soil organic layer combustion in boreal black spruce and jack pine stands of the Northwest Territories, Canada. International Journal of Wildland Fire.
Walker X, Frey MD, Conway AC, Jean M, Johnstone JF, 2017 "Impacts of fire on non-native plant recruitment in black spruce forests of interior Alaska". PLoS ONE 12(2): e0171599. https://doi.org/10.1371/journal.pone.0171599
Walker X, Mack M, Johnstone JF, 2015 "Stable carbon isotope analysis reveals widespread drought stress in boreal black spruce forests" Global Change Biology, DOI: 0.1111/gcb.12893
Walker X, Jonhstone JF, Mach MC, 2016 "Predicting ecosystem resilience to fire form tree ring analysis in black spruce forests" Ecosystems, DOI:10.1007/s10021-016-0097-5