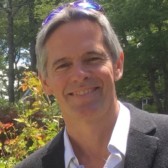 Research Interests
Dr. Scott Goetz is a Professor at Northern Arizona University. He is the Science Lead of NASA's Arctic Boreal Vulnerability Experiment and Deputy principal investigator of NASA's Global Ecosystem Dynamics Investigation. He has published over 160 refereed publications, which have been cited over 17,000 times. His research has been covered by numerous new agencies (including the New York Times and National Public Radio), popular magazines (e.g. National Geographic, Scientific American) and science news venues (e.g. Nature, Science). He is an Executive board member of Environmental Research Letters, served for 10 years as an Associate editor of Remote Sensing of Environment, and has sponsored dozens of early career scientists and graduate students.
Research Projects
Selected Publications
Grosse G, Goetz SJ, McGuire AD, Romanovsky VE, & Schuur EAG (2016). Changing permafrost in a warming world and feedbacks to the Earth system. Environmental Research Letters, 11(4), 040201.
Goetz SJ, Hansen M, Houghton RA, Walker W, Laporte N, & Busch J (2015). Measurement and monitoring needs, capabilities and potential for addressing reduced emissions from deforestation and forest degradation under REDD+. Environmental Research Letters – Reviews, 10(12), 123001.
Jantz P, Goetz SJ, & Laporte N (2014). Tropical carbon corridors: mapping climate change mitigation and biodiversity co-benefits. Nature Climate Change. 4:138-142.
Goetz SJ, Bond-Lamberty B, Law B, Hicke J, Houghton RA, O'Halloran T, McNulty S, Meddens AJH, Pfeifer EM, Mildrexler D & Kasischke E (2012) Observations and assessment of forest carbon recovery following disturbance in North America. Journal of Geophysical Research – Biogeosciences 117(G2): G02022
Goetz SJ, Sun M, Baccini A, and Beck PSA (2010). Synergistic use of space-borne LiDAR and optical imagery for assessing fire disturbance: An Alaskan case study. Journal of Geophysical Research – Biogeosciences 115, G00E07