During the 2016-2017 academic year, Ecoss teamed up with STEM City to serve as a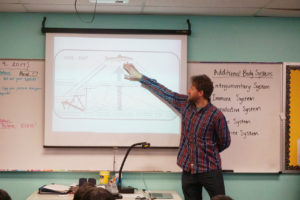 Flagstaff community STEM partner in the Scientists in the Classroom Program (http://www.flagstaffstemcity.com/scientists-in-the-classroom.html).  Each month, Ecoss students, postdocs, faculty, and staff members visited Ms. Kathryn Wertz's 6th grade science class at Sinagua Middle School to share their experiences as professional scientists.  Activities included conducting a field experiment on decomposition, discussing ecosystem services of soils, measuring photosynthesis, and learning about freshwater food webs. The yearlong program was capped off with a field trip to the Ecoss laboratories on the NAU campus, where the students extracted DNA from fruit, made ice cream with liquid nitrogen, learned about the carbon cycle, and visited the campus greenhouse to learn about restoration projects and research on local ecosystems.  More than 20 Ecoss members participated in this year's Scientists in the Classroom Program.
On the field day, the 6th graders from Sinagua Middle School visited the laboratories at ECOSS and the greenhouse on South Campus of Northern Arizona University. A team of twelve Ecoss scientists participated in this field day and we split into five different groups with the following topics: Microbial ecology, carbon cycling (climate change and greenhouse gas effect), freshwater ecology (fish painting, bugs & scopes), fun with liquid nitrogen, weighing the leaves from their decomposition experiment station.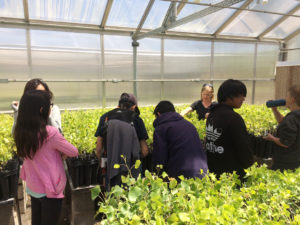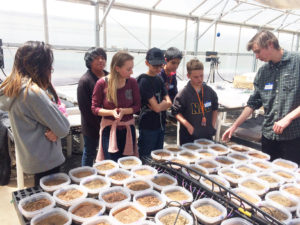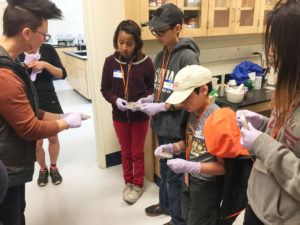 ---
DECOMPOSITION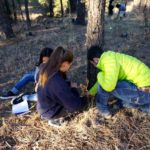 The students deployed 1.0 g of either cottonwood leaves or ponderosa needles in fine- and coarse-mesh litter bags for 5 months on the forest floor near their school. After the winter, the students collected the bags and weighed the leaves and we plotted the data, which nicely showed that different leaf litter quality translates directly to different decomposition rates. StemCity posted an article about the experience that can be found here.
---
FRESHWATER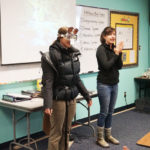 On freshwater day we had students 'dive' into the threats facing freshwater ecosystems. We created a freshwater food web and discussed ecosystem engineers in the form of BEAVERS! Beavers brought down the house due to us dressing their teacher up as a beaver as students talked about adaptations.
---
STEM CELEBRATION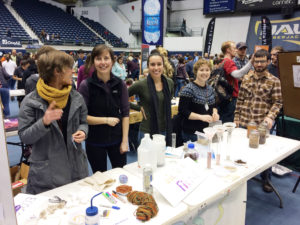 On March 6th 2017 ECOSS hosted a table at the 4th Annual Flagstaff STEM Celebration (http://www.flagstaffstemcity.com/flagstaff-community-stem-celebration.html). Activities at the table included 'Soil as a Filter', demonstrating how different soil types remove particles from water, 'Shake-em-up soil jars' that showed how soil particles in streams settle at different rates, 'Sprout your own necklace', and 'ECO-Trivia'. '
---
SKYPE A SCIENTIST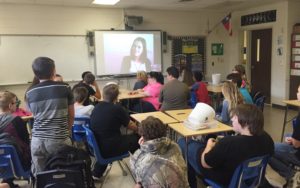 A program called 'Skype a Scientist' pairs scientists with classrooms around the country. The primary goal of the program is to give students the opportunity to interact with a scientist, to ask questions about science, about what it is like to be a scientist and anything else science related that the students might be interested in. Christina Schädel participated in this activity and got matched with a school class from Brookeland ISD Junior High in Texas. She worked with their Science Teacher Kristin McClain and provided the students with material to prepare for a question and answer session. During the Skype call, the students asked questions around the topic of climate change in the Arctic and how they can do in Texas to help reduce carbon emissions.
---
5TH GRADERS TACKLE CLIMATE CHANGE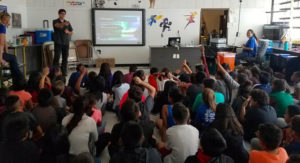 The fifth graders at W.F. Killip Elementary are learning about the interactions between the Earth's system (hydrosphere, biosphere, atmosphere and geosphere) and will use this knowledge to develop local Flagstaff solutions to mitigate the effects of a warming climate. Ecoss member Anthony John (AJ) Garnello, a doctoral candidate at Northern Arizona University, was part of a group of scientists visiting the Killip STEM Lab on September 8th. This activity was part of Flagstaff STEM City and the full blog post can be read here:
http://www.flagstaffstemcity.com/blog/5th-graders-tackle-climate-change