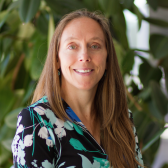 Dr. Ogle's research focuses on developing a mechanistic understanding of how plants and ecosystems are affected by environmental variability, including climate change factors. She uses integrative approaches that meld manipulative field experiments, observational studies, diverse data sources, statistical and mathematical modeling, and computational techniques.
Dr. Ogle's research group works on projects that fall under four primary areas:
Understanding how carbon and water cycling processes in deserts – spanning soils, plants, and ecosystems – are impacted by antecedent conditions and environmental change.
Quantifying the factors governing ecosystem and soil carbon dynamics, and the potential effects of climate change factors on carbon fluxes and pools.
Exploring the functional ecology of >300 tree species in the U.S. by developing individual-based models of tree growth and mortality, coupled to information on species-specific functional traits, and informed by large databases (e.g., forest inventories, climate databases, and literature databases).
Evaluating the importance of antecedent conditions for understanding a range of ecological processes spanning diverse temporal and spatial scales (e.g., leaf-level gas exchange, plant hydraulics, soil and ecosystem carbon fluxes, and annual tree growth).